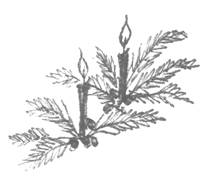 Bethlehem Monastery of Poor Clares
Christmas, 2015
"Remember the marvels the Lord has done for us!"
Our dear Friends,
The Lord is coming, alleluia! And Holy Church is very excited about it. Never mind that we know neither the day nor the hour. For such an event we need to get started now. Have you noticed all the candles being lit to welcome Him? Even in our days of electric lights, there is nothing quite like a candle to mark special occasions. What is a birthday without candles? Or a wedding anniversary for that matter? For that is what a religious jubilee is: a wedding anniversary. And we have definitely been remembering the marvels the Lord has worked in the lives of several of our Sisters celebrating 25, 40, and 60 years of Poor Clare living.
If you recall, we began in July (cf. our last issue) as our bells rang out for our Mother Abbess on July 16th. They rang out again on July 26th to announce our second day of celebration, for which Father Robert McCreary, OFM Cap. drove down from Washington, D.C., to be with us. We were very moved that so many of you were able to join us on that special day. We had yet another silver day set aside to fete our dear Mother: July 29th, feast of St. Martha, she who told the Lord that she had come to know and to believe that He was the Christ, the Son of the living God, the One who was to come into the world. Just a few days later, our bells rang out again as we were about to open our solemn novena in honor of our Holy Mother St. Clare, but this time in diamond and ruby tones for our Sister Mary Christine and Sister Jean-Colette respectively. Now, such a milestone as a 60th anniversary deserves quite a celebration, especially since it was the first ever in our community, but Sister Christine wanted it kept as low-key as possible and we did our best to honor her wishes. However, Sister had one other big wish and that was to have Holy Mass celebrated in the Syro-Malabar rite, using her own language of Mayalayam. She had also wanted to hear the words of consecration in Aramaic, the language Our Lord Himself would have used. And so, thanks to Father Tijo, pastor of the Syro-Malabar community in this part of the country, both wishes became a reality on Saturday afternoon, August 1, when a number of Father's community drove down from Richmond. The rich symbolism of the liturgy which Father took care to explain to us was very moving, especially since Father had been able to learn the Syriac language for the consecration itself. Father later explained that Syriac is the closest to Aramaic of all our modern languages, differing by only a few vowels here and there. What a way to begin the days leading to the solemnity of our Mother St. Clare!
Sunday, August 2nd, saw the restoration of our great novena to the early evening as is the custom in most of our monasteries. We were very gratified to have so many of you join us in prayer and petition to our Holy Mother. Father Francis Simeone, our former chaplain who now lives in Williamsburg, led the prayers and gave us what he called "Pulpit-side chats" – brief reflections on the spirituality of our Holy Mother St. Clare. On August 10th, we concluded our Novena with a Vigil Mass of the feast, celebrated by Father Francis, who also blessed and distributed our traditional breads. For Holy Mass of the Solemnity we rejoiced to have Mother Abbess' priest-cousin, Father Sam Martin of the diocese of La Crosse, Wisconsin, as our celebrant. Father had come all the way from his home parish to be with us that morning. What a jubilee gift from our Divine Bridegroom! He was able to be with us also for Holy Mass the next day, but had to leave shortly afterwards. Nevertheless it was long enough to prepare us for a most unusual observance of our traditional second day in honor of our Holy Mother Clare: the arrival of a large (forty foot) shipping container from Holland referred to in community over the past few months as "The Crate". Inside were all the things from the monastery in Eindhoven that our Sisters had spent months packing in preparation for its closing: tables, chairs, vases, statues, crucifixes, icons, library books, silverware, etc., etc., plus all the personal items that would not fit in the two pieces of luggage each was allowed for air travel. It reminded many of us of that day back in 2004 when we ourselves moved here from Newport News. And now our Sisters Petrice, Margaret Mary, and Theresia are officially incorporated into our community, a fact which we celebrated on September 2nd, with flowers and festive meals featuring some of their favorite music. It was a special opportunity to exclaim with our Holy Mother Clare the marvel that the Lord has given us Sisters! Recalling the marvels the Lord has done found yet another expression a few days later, as we entered into our community retreat, from September 6th – 11th. Not having a "live" retreat master this year, we decided on a "Lectio" retreat; that is, each sister would spend the time appointed for conferences in reading a spiritual book or listening to a tape. Many and rich were the sharings that followed those blessed days of prayer and reflection in which you and all your intentions were so very much a part.
Needless to say, our Holy Father Pope Francis and his upcoming visit to the United States was also a major focus of our prayer through September. How we rejoiced to learn of the warm welcome he received even from the media! We pray that his message may take root and grow in the hearts of all men of good will. Shortly after he left our shores, our candles again glowed ruby red as we celebrated the 40 years of vowed living of our Sister Pia Marie on September 29th, the feast of the great archangels Michael, Gabriel, and Raphael. It has been quite a source of wonder for us that so many of our Sisters would be celebrating significant days during this special year dedicated to deepening appreciation for the consecrated life throughout the Church. Another marvel of the Lord, it seemed to us, has been the coincidence of the focus of the Church on consecrated life with the focus on families this past year, culminating in the Synod of Bishops held in Rome this October. We think maybe the Holy Spirit has been trying to point out that religious and priestly vocations are best promoted and nurtured in a healthy family environment. It may also have been part of the reason Pope Francis chose to canonize Louis and Zelie Martin, parents of St. Therese of Lisieux, during the Synod.
Appreciation of and fostering of life from conception to natural death was a major theme of our Holy Father's visit to our land as it has been throughout the whole of his pontificate. We had a wonderful opportunity to give expression to this in early November when we learned of the heavenly home-going of our friend of many years, Michael Dudash, or Brother Mike, as he came to be called. And brother he was to us – and we know to many of you as well – in such a variety of ways we cannot even begin to list them here. There did not seem to be a mechanical or woodworking problem he could not come up with a solution for, and always so cheerfully. That he was a real artist in wood, two of his more special works bear eloquent witness: the big sign at the entrance to our driveway with its large handcarved letters, and the exquisite Celtic cross, likewise painstakingly handcarved, that graces the door of the tabernacle in our sanctuary. May his beautiful soul receive that hundred-fold reward in the eternal life promised to all those who do good to us for the Lord's sake.
And now we are in that season when we remember the greatest of the marvels the Lord has done. St. John tells us of it in the Prologue to his gospel when he writes:
The Word became flesh and dwelt among us,
And we have seen His glory, glory as of an only-begotten Son,
Coming from the Father.
Pro nobis. For us.
A blessed Christmas to you all!
Our Masses at Christmas
December 25 Midnight Mass 12:00 a.m.
Christmas Morning 9:00 a.m.
January 1 New Year's Day 8:00 a.m.