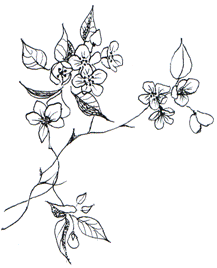 Bethlehem Monastery of Poor Clares
Spring, 2015
Our dear Friends,
The poet Gerard Manley Hopkins once asked the question: "What is Spring?" then answered: "Growth in everything." We can certainly testify to the truth of that, as witness the burgeoning growth all around us. The winter does seem to be over and gone with the appearance of the first daffodils just in time for the feast of St. Joseph, even though the temperatures remain on the chilly side at this writing. We never cease to be amazed that Nature begins her preparations for spring even as winter is getting underway. Did you ever notice how buds begin to swell on flowering bushes and trees already in December, taking advantage of every minute of above freezing weather? Thus they are ready to burst forth at the opportune moment. "How silently, how silently, the wondrous gift is given," we sing at Christmas. "So God imparts to human hearts the blessings of His heaven." Thus does the earth also, reflecting the action of its Creator, who has taken the small and the lowly as His sign. We would, of course, prefer something a little more spectacular, something that would outshout the apparent victory of violence and hate all around us. However, as Pope Emeritus Benedict reminded us some years ago:
"This child, God's only begotten Son, is set before us as a sign and pledge that God has the final say about world history, and God is truth and love. This is the real meaning of Christmas: it is the birthday of the unconquered light…We have the divine assurance that the light has already conquered in the hidden depths of history and that no advance, however great, of evil in the world can change this fact. On this night our hearts should be filled with great joy, for despite all appearances it is and will remain true: Christ the Savior is born."
Fast forward to February and our first real snow "storm" of the year in these parts. "Oh, how beautiful it is!" exclaimed our Sister Joseph as she returned from a mini-excursion into snowy St. Joseph's patio to shake the heavy snow from a couple of tall nandina bushes near the house. And that is what it was! Yes, on Shrove Tuesday, our land had actually been clothed in the whiteness of the Lamb, although many were the skeptics viewing the predictions of said phenomena. Even when the first fine flakes began sifting down late Shrove Monday afternoon, it was the opinion of some that the three inches forecast could not possibly accumulate by morning because it was hard to tell whether those fine "flakes" were snow or mist or …. However, they kept on falling and whether they grew in size or were simply highly persistent, there really was a goodly layer of white when we awoke for Lauds. Goodly enough for a couple of us to go out after our morning coffee and clear the front walk and the steps leading to the chapel entrance. Goodly enough for our novitiate sisters to postpone their proposed painting day until Thursday in favor of a grand sledding party. One just does not get that kind of Mardi Gras celebration here in the Old Dominion very often. From all reports, a great time was had by all intrepid enough to dare our slopes. Goodly enough also for our good friend and neighbor, Neal Lockwood, to come over to clear our driveway and parking lot with his frontloader "snowplow," a tremendous gift to us that he again gave a week later when the Lord once more covered our brown earth with blanketing white.
Back to the beginning of the month. February 2nd brought the liturgical close of the Christmas season with the feast of the Presentation of the Lord in the Temple which our beloved St. John Paul II designated as the World Day for Consecrated Life. That being so, it seemed appropriate, in this year that our present Holy Father Pope Francis has set aside for a deeper appreciation of the consecrated life (it began November 30th of 2014, coinciding with the First Sunday of Advent) to dedicate the 2nd of each month as our own special day for growing in that "full, grateful knowledge of our vocation" to which our Holy Mother St. Clare urges us. On one of the first of those days of this year, January 2nd, our enclosure doors opened once again to welcome a new little plant to our Clarian garden in the person of Cheyenne, twin sister of our Postulant Phoenix, who (you may recall) entered on February 7th of last year. Her entrance brought our numbers to 20 – an all-time high for us! Thanks be to God for His calling, for their answering, and for the support each one of you, our dear friends, gives us that makes our way of life possible.
Now, with our growth in numbers has come a need to expand our space or at least, to shift around existing spaces. A need sizable enough to lead us deeper into the intricacies of yet further renovations here on Mount Saint Francis. These include the construction of floor-to-ceiling storage cupboards in one of the wider of our long upstairs halls to allow Mother Vicaress to return several cells in the community dorm from storage rooms to their original purpose, and the division of one large room in the basement into two modest work areas for the community sisters. We also did a little shifting on the first floor to create more spacious working conditions in the kitchen area. With a little stretching here and a little pulling there, somehow the space needed to accommodate the growth anticipated in the coming year is beginning to appear.
As we look forward now to our 11th Holy Week and Easter – yes, we have now completed a full 10 years here (can you believe it?) – we carry each of you in our hearts, praying that the Lord will match your generosity to us with His own abundant blessings – as abundant as the new life burgeoning all around us in this springtime of the year.
New life. Yes, that is what we experience in celebrating Easter, and not only new life, but even new fire, for, as our beloved Pope Emeritus Benedict said some time ago, "With the resurrection of Jesus, light itself is created anew. He draws all of us after Him into the new light of the resurrection and He conquers all darkness. He is God's new day, new for all of us. Christ, the light, is fire, is flame, burning up evil and so reshaping both the world and ourselves. 'Whoever draws close to me is close to the fire,' Jesus is reported by Origen to have said. And this fire is both heat and light…through which God's warmth and goodness reach down to us."
May that fire and light be yours in fullest measure. A most blessed Easter to you all!
Our Holy Week Liturgies in this year of the Lord 2015
April 2 Holy Thursday Mass of the Lord's Supper 5:00 p.m.
April 3 Good Friday Celebration of the Lord's Passion 3:00 p.m.
April 4 Easter Vigil 11:00 p.m.
April 5 Easter Sunday Mass of the Lord's Resurrection 9:00 a.m.