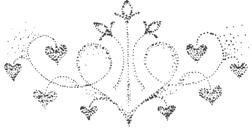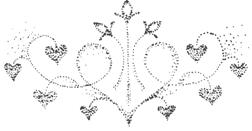 Bethlehem Monastery of Poor Clares
Spring, 2016
Give thanks to the Lord for He is good, for His MERCY endures forever!
Our dear Friends,
Indeed the Lord is good! How could we not sing unceasingly of His infinite mercies? Every corner of the earth rings with His praise and is steeped in His grace. Even as we experience with sorrow the tragic situation on the international scale, yet we recognize that in the depths of each soul there is, at this moment, a fountain of Divine Love bursting with the revelation of Mercy Incarnate, Our Lord and Savior Jesus Christ. Hence it is most fitting that our Holy Father Pope Francis should bless us with this Jubilee Year of Mercy at this time, that the surpassing gifts of God might be manifested and appreciated in a special way, bringing consolation to all.
We left you as the days were growing shorter and the great solemnity of the Lord's Nativity was drawing near—the day when God's mercy began to become manifest through the Incarnation of His Son in our human nature. Now we write you as we prepare to celebrate the great culmination of God's marvel of mercy, which will last until the end of time. The Paschal Mystery remains at the center of all our joy and hope as we gaze in loving desire upon the Crucified and Risen One Who is our eternal beatitude. May the graces of this season wash over all your sorrows and fill you with Gospel joy.
Mercy is the theme of this year of grace, therefore it is not surprising that we should see God's mercy around every corner. On January 8th we welcomed the arrival of Postulant Kathryn. Her entrance day, occurring in the overlap of the Year of Consecrated Life and the Jubilee Year of Mercy, was a special opportunity to ponder the surpassing grace of our vocation. "Among all the other gifts which we have received and continue to receive daily from our benefactor, the Father of Mercies, and for which we must express the deepest thanks to our glorious God, outstanding is our vocation." This quotation from the Testament of our Holy Mother Saint Clare comes to mind. After all, is not the consecrated life simply a personal revelation of the merciful gifts of God? It is a prophetic manifestation in the midst of this world of the eternal vocation which all of us share. On February 2nd we celebrated the Jubilee of Consecrated Life with special festivities and renewed our vows publicly during Mass. Our celebrant fittingly was a Consecrated Religious, Fr. Ken Cienik, a Friar of the Atonement, and he also renewed his vows after the homily.
One of our first experiences of God's mercy embarking on these Jubilee days was when the new religious assistant of our Federation, Father Larry Webber, O.F.M. Cap., joined us for a few days of recollection from January 17th - 20th. Father spoke of how the love of our all-powerful and mysterious God meets human misery in an explosion of mercy: a mercy which is manifested and poured out on us primarily in the Life and Passion of our Blessed Savior, God's own Son. The Cross is the instrument of Mercy, and understanding the Passion of Christ is the key to understanding mercy. Father emphasized the Holy Father's invitation to us this year to be "Merciful like the Father," to meet God and to help make Him present in this world by becoming channels of His mercy. How could we help but think in the midst of these ponderings of you, our benefactors and friends, who so lavishly extend God's mercy to us in so many ways. May God richly bless and reward you!
The sisters note with satisfaction the progression of our ongoing fencing project in the enclosure gardens. Thanks to you, our benefactors and friends, we have hemmed in a large extension for our vegetable field to help meet the needs of our growing community. The diligent work of Mother Vicaress Clare and some younger members of the community is paying off as the ground is broken and tilled to await the spring seeds. On that note—we are pleased to announce the installment of a new greenhouse! Mother Therese's family, relatives and devoted friends generously gifted us with it in honor of her Silver Jubilee, and soon little seedlings will be basking away in their new home. Among them will be some very interesting roots obtained by our Indian Sisters from their native land. Needless to say we will be watching with eyes wide open to see what they become!
Our dear Sisters from India were also gifted with a welcome update of their immigration status: Sister Mary Joyce received her permanent residence "green card" in December and Sister Mary Prabha, the renewal of her Visa early in February. Her next step will be also be permanent residency. We give thanks for our generous Sisters who have left homeland and family to serve the Lord here in Virginia.
It is our Holy Father Pope Francis' earnest wish that this Jubilee Year be a time of special grace. In communion with his wishes the sisters are taking turns pondering specific Mercy themes and presenting them to the community for the benefit of all. Topics include the messages of Pope Saint John Paul II and Saint Therese of Lisieux, among many others. The first sister to present chose as her focus "Mercy in the Desert," offering quotations from Sacred Scriptures, the Desert Fathers, and various spiritual writers which show God's timeless compassion in leading His people out into the desert to speak to their hearts (cf. Hosea 2:14). Sister pointed out that God's ways of healing are often very painful, but they are always for our good and a true mercy. It was an ideal meditation as we headed into the verdant Lenten desert flowing with streams of living water.
Speaking of God leading those He loves into the desert, He will soon take our dear Sister Mary Charitas into the desert of gratitude to ponder His merciful love that endures forever as she prepares to celebrate 50 years of covenant love. Yes, our dear Sister is golden in more ways than one as her radiant smile lights up the cloister halls and reflects the glory of her Divine Bridegroom which has sustained her during these many years of fidelity. We invite you to join us during her Jubilee celebrations—if not in person, then at least in spirit—that you may share our joy in this great event.
W W W W W W W W W W W
Our Holy Week Liturgies in this year of our Lord 2016
March 24th Holy Thursday Mass of the Lord's Supper 5:00 pm
March 25th Good Friday Celebration of the Lord's Passion 3:00 pm
March 26th Holy Saturday Easter Vigil 11:00 pm
March 27th Easter Sunday Mass of the Resurrection of the Lord 9:00 am